Slate
Blackcurrant
Watermelon
Strawberry
Orange
Banana
Apple
Emerald
Chocolate
Marble
Slate
Blackcurrant
Watermelon
Strawberry
Orange
Banana
Apple
Emerald
Chocolate
Marble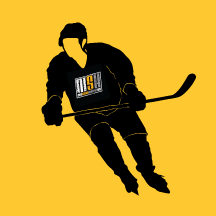 Content Count

204

Joined

Last visited

Feedback

0%
Community Reputation
0
Neutral
Helmet: Bauer 5000 Cage: Jofa Chrome Shoulder Pads- Bauer Lightspeed 8000 Elbows- Nike Quest v10 Pants- Rbk 8k Shins- Rbk 7k Gloves- Eagle x70 (i cut a bunch of crap that didnt do anything off) Skates- CCM Vector Pro Stick- Sherwood 9950 Woodie Wax- Mr Zog's Sex Wax- Hockey Version Socks- Under Armor nasty sox Shirt- Nike Pro Vent tight longsleeve Jock- Shock Doctor Men's Loose

thenizzle replied to LegoDoom's topic in OPS

Product: Easton Synergy SL Grip LH 100 Flex Forsberg Curve Background: 5'10, 185 pounds, skate 7+ times a week at AAA Midget level Other Products Used: Easton Synergies (All other) Blade: the blade is nice and thin, yet still very hard. It receives pucks well and has a nice feel. 9.5/10 Flex: This thing at 100 flex is perfect for me, as opposed to my 100 flex ST, which feels like a tree branch its so whippy. 10/10 Stickhandling: This feels great on the stick, and I can pull off some nasty moves with it, its feel is sooooo good. 10/10 Shooting: For the most part, the puck simply flies off. No complaints here. 9.5/10 Weight and Balance: at a "whopping" 395 grams, this thing is perfect. Any lighter would be a crime. 10/10 Durability: This is what ruins the stick. I have broken 3 in just over 45 days. It just SUCKS. While this stick is great, the durability is so bad that I will NEVER buy one again, they break so easily. And trust me, I have never broken any type of stick in less than about 2.5 months, so I'm not just a crazy stick-breaking goon. 0/10 Intangibles: the grip doesnt peel like the yellow synergies, and the shaft size is smaller then the synergy st, its the perfect size. The chrome looks very appealing. Coclusion: While this stick is nasty, its durability is so poor that I would never buy one again unless its $10. Overall grade: barring durability: 9.5/10. Including its terrible durability: 3/10. 170 bucks for such a breakable stick is rediculous.