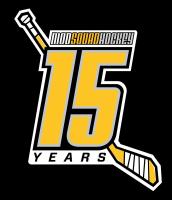 As we are in our 15th year of existence (3/20 being the official date), we will be using this logo to commemorate it:
It will also be featured on SummerJam and Winterfest jerseys on a patch, and we'll also have a t-shirt.
Absolutely crazy that we've been around so long.  Thanks goes to everyone who has helped us out along the way.
14

1