Slate
Blackcurrant
Watermelon
Strawberry
Orange
Banana
Apple
Emerald
Chocolate
Marble
Slate
Blackcurrant
Watermelon
Strawberry
Orange
Banana
Apple
Emerald
Chocolate
Marble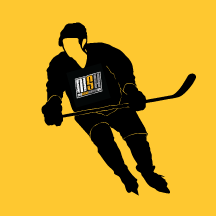 Content Count

265

Joined

Last visited

Feedback

0%
Community Reputation
0
Neutral
60?! Haha...You're not far off, he's in his early-50's. Goalie is in his mid-30's.

Hahaha...I assume you're talkin about the holders? They're actually black Tuuks C+'s...got them put on instead of the Cobras when I got 'em from Goalie Heaven/Majer Hockey. Got lucky though, it was the last pair they had in that size.

One95 protective looks badass, I like the higher spine protection on the pants, though I'm not so sure about the gloves. Palm is intriguing but the glove itself is kinda...well, I'm not really sure. I think I like the XXXX line a little more based on looks. Can't wait to get a chance to try some of it out.

Oh me lard...that's a lot of white. Nice setup, just hard on the eyes. :)

I played softball pretty much all my life, and joined both the men's and co-ed league last summer. I'm not much of a drinker but it's still always a good time...especially with the ladies in the short-shorts. It's pretty easy to find a game of ball here too, seeing as pretty much everyone plays. No better way to spend a summer afternoon.

I tried on a couple pairs of 5030's (one in medium, one in large), as well as a pair of Bauer Supreme Classics...but the SP300's just fit me a little better. The caps on the SP300's are smaller than both the other pairs, and they have a lower profile than the Classics. I had a pair of the 300's a few years ago so i knew what they were like but they were a large, and I've lost about 60 pounds since I wore those...so I got these in medium.

These bad boys showed up in the mail today. As I've mentioned in another thread, my Bauer 6000's were overkill for the league I'm currently playing in, so I picked up these SP300's instead. (my camera had an incident involving a concrete floor, so I had to find this stock picture.)

Those are nice! Don't the SE's normally come with t-blades?

I was reading a article from the hockey prospects site and they mentioned that David was a strong special teams player. Has he had any special teams time in the preseason? I haven't seen any other mention of it. If so, who else was on the line?

Is that the royal/maize colour scheme? those are hot

Dude, nice twigs. How many of those did you get? What kinda flex?

A couple more skate pics for those who didn't catch 'em the first time around, this was right after they came outta the box...

Thanks a ton for compliments! The skates were originally made for Krys Kolanos when he was with the Coyotes but he didn't use them, so I managed to snag them from Majer Hockey. Seeing as I've been skatin on the Custom+ my whole life I didn't wanna make the change to the Cobra since I knew the C+ was what I liked. So I asked them to make the swap for the black Tuuks and they did it free of charge...the black makes them extra bad-ass, haha. From what I understand, the skate is actually closer to an Ultra G35, as opposed to the Supra...which is pretty unique. I lace 'em like that because they have the extra thick tongues, and if I lace all the eyelets then it tends to nip a bit in that area. So I've found that with that lacing pattern it spreads out the tension a bit. Thanks again :D

Time for an update... Bauer 5500 with Itech HS-22 Pro-Wave Pro Return Supra G35's R8 shins I picked up from a member here Vapor XX's, also from a member here Current stick selection: - S. Donovan pro return XXX Lite (from cougarscaptain87.) There's supposed to be 2 of these, but one didn't survive the trip here. - T. Green pro return Dolomite, 260 flex, slightly irregular blade shape. - TPS Adrenaline Control. Regular flex, Afinogenov pattern.