Slate
Blackcurrant
Watermelon
Strawberry
Orange
Banana
Apple
Emerald
Chocolate
Marble
Slate
Blackcurrant
Watermelon
Strawberry
Orange
Banana
Apple
Emerald
Chocolate
Marble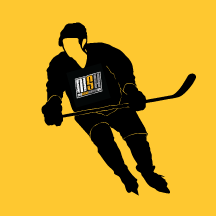 Content Count

395

Joined

Days Won

1

Feedback

100%
Community Reputation
14
Good
Equipment
Skates
Stick
Gloves
Helmet

Bauer 4500 with Oakley Pro Straight visor

Pants
Shoulder Pads
Elbow Pads
Shin Pads
Hockey Bag
Profile Information
Gender
Location
Spambot control
I work in the home automation/AV industry, we have an install coming up soon with a client who has a Gretzky memorabilia collection supposedly worth upwards of $1Million. My coworker who walked the job last week told me I'm gonna freak once I get there, can't wait!

I used a P14 for a while and generally liked the curve, but couldn't get used to the shorter blade. Ended up going back to my trusty E28/P92 patterns full time after.

Might be tough to track one down since they stopped making them probably over a year ago but the Combat Jagr curve was exactly what you're looking for: squared toe shape and a nasty hook at the end.

Google chrome has an app called Stealthy that worked for me last season so that I could watch the Kings when they had early East Coast starts and I was still stuck at work. It's a bandwidth hog, but once you get the feed up and running you can disable it and watch like normal again.

Gamecenter Live streaming for me through Roku, PS3 and PS4 all look fantastic in HD, waaaaaay better than DVD quality. They improved the streaming quality through those devices last season and it was a noticeable difference from the 3 seasons I had it before. There's more replay options when using it through PS3/PS4, but for some reason the stream stutters a little more than when watching on my Roku in a different room. Either way I love Gamecenter and the ability to pretty much watch games anywhere.

Doughty's been using an E28 pattern since around 2009, before that he used a pretty standard heel curve.

In order top to bottom, retail sticks only no pro stock Bauer One95 Easton Mako2 Bauer Nexus 1000 Easton Mako Bauer Vapor XXXX

Perhaps Bauer is holding off on having guys wear them until the medal round? Just a thought...

I thought that's what it might be for, looks like a PITA to insert into the shaft.

Thought this was cool, pulled out the plug on one of the sticks and there's vibration dampening foam glued onto the end, never seen that before.

1

Picked these up from Hockeymonkey, pro stock Easton Synergy Grip Doughty in 80 Flex/E28 pattern. I'm wondering if Hockeymonky just had Easton put player namebars on these sticks to help them sell as the specs on this stick are nowhere near to what Doughty usually uses (elliptical taper/sandpaper blade/extra long shaft) save for the curve and grip. Both are actually shorter than retail length with black wooden plugs. No complaints though, did some stickhandling with both and they feel nearly identical to my Mako2 stick, and I only have to cut about 1/8" to get it to my preferred length so it'll stay extra whippy!

Broke my Mako2 stick about 6" above the fuse area blocking a shot a couple months back, finally tried to extract the blade over the weekend and had great success! I now have a fully usable nearly new E28 tapered blade, just need to get a new tapered shaft as the one I have it in now is used for dry land stickhandling.

Quick question for anyone that might remember, how did the sizing go on the Nike skates? There's no size tag on mine but lengthwise they fit exactly the same as my Bauer One100 in 7D and have a size 263 holder on them. I wear a size 9 shoe, did Nike use shoe sizing on their skates or skate sizing? Thanks

Neither does Ovechkin, Stamkos, or any of their other current faces of the brand. What the hockey viewing public doesn't know doesn't hurt them at retail, it's guys like us here on this site and ones like it who are aware that pros use specially tailored products suited to their needs dressed up as the latest and greatest you'll find at retail. I do agree about bringing back the One95 too, that was my favorite OPS ever. Same internals with new graphics would definitely be welcome.

Uhhhh maybe cuz the guy won a Conn Smythe trophy and has the sickest hands in the world...